Bed Platform
2013-11-12
Most beds use the headboard/footboard/rails/box-spring paradigm in order to get the bed up to the "normal" sleeping height. But when we got a new mattress, I wanted to build a platform for it.
A platform bed is an alternative to headboard/footboard/rails/box-spring. Where box-springs are a point of failure and a source of creaking, a platform is solid and silent night after night.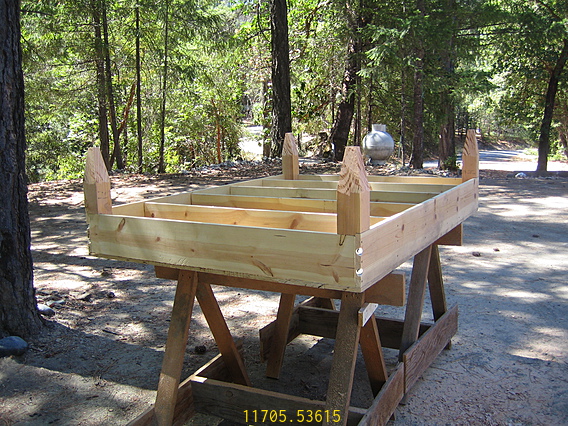 All in all, nothing fancy, wooden platform bed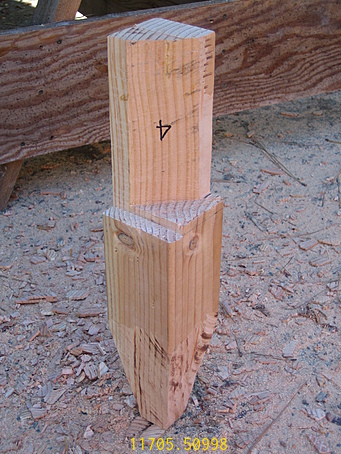 Typical shape of the legs:
tapered bottom, shoulders for the frame.
This design is very simple. The platform is built of 1x8 framing, with a 3/4-inch plywood surface. I wanted the platform to be on solid legs, so it is simple to clean underneath. The legs are cut from 4x4. The materials are not fancy, just pine, fir, and arauco plywood.
The 1x8 were from two different sources, and were two different depths. If I had had a table saw (which I didn't) I could have cut them down to the same width. But why throw away wood in the strong dimension?
Instead I cut the shoulders on the legs to two different depths. Each leg had to be custom-fitted to a certain corner, so each leg is matched to its corner with a symbol.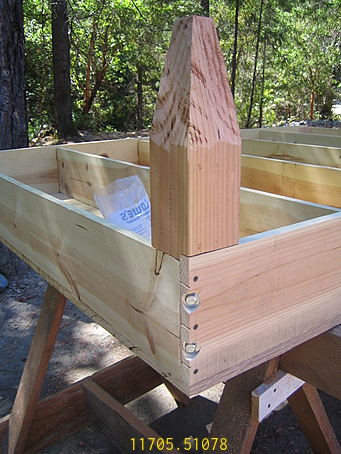 One of the legs, bolted into place, showing
two wood depths, and how the shoulders work,
and the lag bolts at a 45-degree angle.
It was important that the legs fully shoulder the weight of the platform. I didn't want the legs to carry the weight via the fasteners, or by pushing on the plywood top. That explains the somewhat complex shape of the legs.
The legs are pulled into each corner via lag bolts that thread through the frame corners, at a 45-degree angle, and into the leg. Some platform beds present a problem for transportation. Here, the legs come off easily, making transport not so bad.
The whole thing was built with just a circular saw, and with a short deadline. That is my excuse for why there are burn marks on the leg tapers, and why the leg tapers aren't perfect. Either that, or because I made it.